Experience a world of wonder at Global Village, where extraordinary artists, performers, and innovators from across the globe gather in Dubai and share their remarkable talents with our visitors day in and day out. Avail the exclusive Global Village VIP Ticket, starting at just AED 22 using Global Village Promo Code.
Read : Qatar Airways Enrollment Promo Code | Earn Extra 4000 Avios Points
Global Village VIP Tickets UAE | Trending Now
| Global Village VIP | Activation Detail | Validity |
| --- | --- | --- |
| Global Village Tickets Available at AED 22 | | 30/09/2023 |
| Flat 10% Off On Entry Tickets | | 30/09/2023 |
| 10% Off On Value Entry Ticket | | 30/09/2023 |
What Is The Global Village Dubai?
Global Village is Dubai's one-stop destination for the best dining, shopping, and attractions. Every time you go to the event, you find new delights as you sample food and cultures from all around the world.
When Is The Global Village Dubai 2023?
The Global Village Dubai opened its doors to Dubai residents on October 18th and will remain open until 28th April 2024. Take a look at the Global Village calendar to be well updated with their dates :
Start Date

18th October, 2023

End Date

28th April, 2024

Discounts

Flat 10% Off
Global Village VIP Packs 28 | World Of Privileges
The Global Village VIP Packs are a great way to get the most out of your visit to the park. They include a variety of benefits, such as:
Global Village VIP Parking
Experience the convenience of VIP parking, ensuring that you're just steps away from all the excitement. No need to search for a parking spot; it's reserved just for you.
Priority Carnaval Queue Lines
Skip the long lines and enjoy expedited access to the thrilling Carnaval attractions. Spend more time enjoying the festivities and less time waiting.
Restaurant Reservations
Secure reservations at some of the most popular and sought-after restaurants within Global Village. Enjoy exquisite dining experiences without the hassle of waiting for a table.
Additional Benefits Of Global Village VIP Packs
Register your pack as soon as you receive it. This will activate your VIP privileges and give you access to your personalized dashboard.

Use your VIP Wonder Pass to skip the lines at the rides and attractions.

Make reservations at the Majlis of the World in advance. This is a popular restaurant and it can get crowded.

Take advantage of the exclusive offers from other Dubai attractions. This is a great way to save money on your next day out.
Global Village VIP Members Privileges
VIP Members Privileges


Arrive In Style

Dining Options

VIP Wonder Pass

VIP Concierge

Dedicated Account & Dashboard

Majlis Of the World

Unbeatable Services

Premium Cabana Access
What's Next for Season 28?
Stay tuned to discover the exciting offerings in store for Season 28 at Carnaval. We guarantee there will be something enjoyable for everyone to experience and savor. The fun never stops at Carnaval!
Different Types Of Global Village VIP Packages And Global Village VIP Tickets Price
Global Village brings you an ideal mix of shopping, dining, leisure and other attractions for you. The visitors can indulge in different activities based on their interest, with a lot of choices for all. Let's take a look at some of the most prominent attractions and activities offered at Global Village.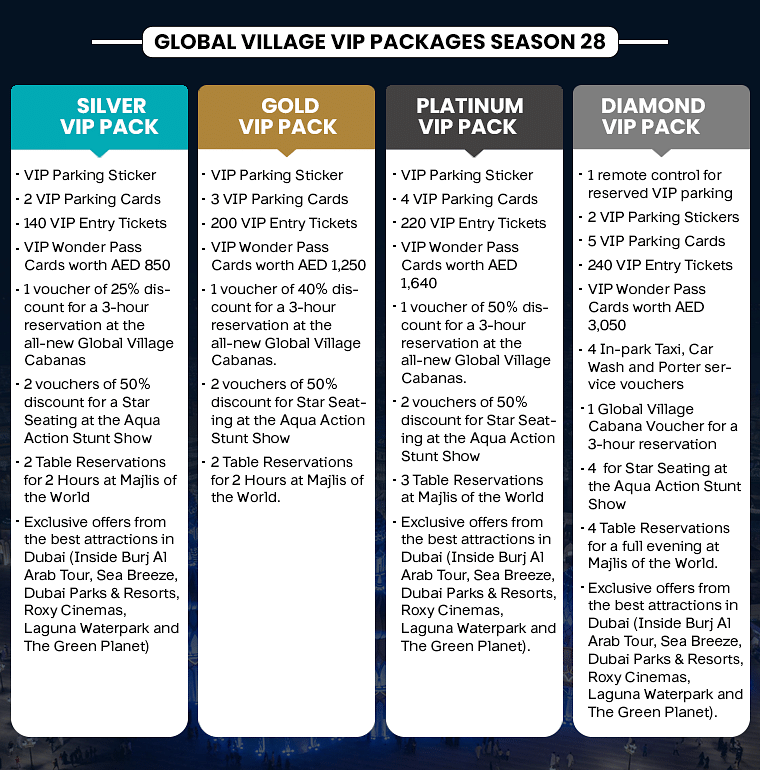 Silver VIP Pack
VIP Parking Sticker

2 VIP Parking Cards

140 VIP Entry Tickets

VIP Wonder Pass Cards worth AED 850

1 voucher of 25% discount for a 3-hour reservation at the all-new Global Village Cabanas

2 vouchers of 50% discount for a Star Seating at the Aqua Action Stunt Show

2 Table Reservations for 2 Hours at Majlis of the World

Exclusive offers from the best attractions in Dubai (Inside Burj Al Arab Tour, Sea Breeze, Dubai Parks & Resorts, Roxy Cinemas, Laguna Waterpark and The Green Planet).
Gold VIP Pack
VIP Parking Sticker

3 VIP Parking Cards

200 VIP Entry Tickets

VIP Wonder Pass Cards worth AED 1,250

1 voucher of 40% discount for a 3-hour reservation at the all-new Global Village Cabanas.

2 vouchers of 50% discount for Star Seating at the Aqua Action Stunt Show

2 Table Reservations for 2 Hours at Majlis of the World.
Platinum VIP Pack
VIP Parking Sticker

4 VIP Parking Cards

220 VIP Entry Tickets

VIP Wonder Pass Cards worth AED 1,640

1 voucher of 50% discount for a 3-hour reservation at the all-new Global Village Cabanas.

2 vouchers of 50% discount for Star Seating at the Aqua Action Stunt Show

3 Table Reservations at Majlis of the World

Exclusive offers from the best attractions in Dubai (Inside Burj Al Arab Tour, Sea Breeze, Dubai Parks & Resorts, Roxy Cinemas, Laguna Waterpark and The Green Planet).
Diamond VIP Pack
1 remote control for reserved VIP parking

2 VIP Parking Stickers

5 VIP Parking Cards

240 VIP Entry Tickets

VIP Wonder Pass Cards worth AED 3,050

4 In-park Taxi, Car Wash and Porter service vouchers

1 Global Village Cabana Voucher for a 3-hour reservation

4 for Star Seating at the Aqua Action Stunt Show

4 Table Reservations for a full evening at Majlis of the World.

Exclusive offers from the best attractions in Dubai (Inside Burj Al Arab Tour, Sea Breeze, Dubai Parks & Resorts, Roxy Cinemas, Laguna Waterpark and The Green Planet).
Top Stores Offering Global Village VIP Packages
Rayna Tours | Starting At AED 22

For those looking to secure tickets for Global Village, Rayna Tours is an excellent online booking platform, with exclusive Rayna Tours Coupons for savings.

Recognized as one of the leading platforms for arranging all your travel essentials related to Global Village, visitors can conveniently make their reservations on this website while also benefiting from substantial savings through Global Village promo codes.

Rayna Tours not only facilitates ticket booking but also offers a range of solutions for booking hotels, holiday packages, and more.
Klook | From AED 160
Klook is another well-regarded platform where customers can purchase tickets for Global Village.

As a popular online travel booking platform, Klook provides users with a wide array of options to book shows, activities, transportation services, hotels, dining options, and various entertainment-related experiences.

Visitors can take advantage of Global Village Coupon Codes to secure tickets at reduced prices.
Global Village VIP Packs For Shows And Events
Global Village treated its guests to an extraordinary array of over 40,000 dynamic shows and world-class entertainment.

These captivating performances were meticulously crafted to ignite the imagination and leave visitors in awe.

From enchanting kids' shows to culturally rich performances, international street spectacles, and breathtaking Main Stage acts, the talent on display was simply exceptional.

Stunt show added an extra layer of excitement, showcasing some of the finest talents from around the world.
Various Types Of Shows And Events
International Shows: The season was dedicated to dance, featuring some of the world's most incredible talent taking center stage.

Kids Shows: Offering a dedicated Kids' Theatre and creative workshops, Global Village became a haven for young minds to express their creativity and imagination.

Street Shows: Seeing was truly believing as guests witnessed fire jugglers, unicyclists, acrobats, mimes, and magicians, all contributing to an awe-inspiring lineup of street performers.

The Aqua Action Stunt Show: This action-packed show promised an adrenaline rush with plenty of excitement and explosive moments.

Fireworks and Fountain Shows: Global Village's weekend firework spectaculars and the mesmerizing Fire Fountain Show became iconic attractions, leaving visitors spellbound.

Cultural Shows: Celebrating diversity and unity, Global Village excelled in bringing together cultures from around the world, enriching the visitor experience.

Daily Events: Each day was a celebration of the world's wonders, featuring cultural showcases, culinary delights, family-friendly activities, and the joys of life.
Global Village Dubai Activities (شراء تذاكر القرية العالمية VIP)
The Global Village Dubai is endowed with multiple activities to suit the interests of its Dubai audience. Here are a few of the activities that you can expect to enjoy with your friends and family.
Exploring the Marvels of Global Village Pavilions
Retail Therapy
Explore the ultimate shopping haven at Global Village, ranging from vibrant stalls to exclusive boutiques.

It's a unique blend of browsing, handpicking, and haggling, where you'll be spoiled for choice with antiques, handicrafts, furniture, clothing, jewelry, artworks, skincare products, and so much more.
Artisanal Craftsmanship
Witness local artisans demonstrate their intricate skills and techniques as they craft fabric, carve wood, fashion shoes, and create exquisite jewelry and souvenirs.

Best of all, you can purchase these incredible artisanal pieces that come to life right before your eyes.
Picture-Perfect Selfie Spots
Our stunning selfie spots designed to capture your special moments in unforgettable photographs.

Adorned with bursts of color, captivating architecture, and photo-worthy corners, we've curated the ideal settings for that perfect shot.

From iconic bridges to charming characters, it's all here!
Heritage Village
Take a step back in time and experience Bedouin life at Global Village's Heritage Village, a hidden gem nestled behind the UAE Pavilion. Embark on a camel ride and journey through a traditional village with sand houses and street shops. Relax in a majlis while being entertained by a live falcon show as you savor Arabic coffee, dates, and age-old Arabian hospitality.
Exploring Carnaval
Prepare to be immersed in a world of fun and amazement with over 170 rides, games, and attractions awaiting your discovery at Carnaval.

This is the place where every visit promises boundless entertainment. While it caters to the little ones with delightful rides, Carnaval also offers an array of epic, gravity-defying, stomach-churning, high-intensity experiences that will thrill even the bravest adventurers.
Games Galore
Dive into the gaming extravaganza at Carnaval with more than 125 arcade and skill-based games.

Whether you're into cutting-edge virtual games or prefer classic challenges like shooting hoops and dart-throwing, our gaming paradise has something for everyone. And remember, a visit to Carnaval wouldn't be complete without leaving with a giant banana plushie and a smile as big as its charm.
Global Village Dubai Season 27 Highlights
Here are some of the highlights of Global Village Dubai Season 27:
A one-of-a-kind Helium Balloon Ride that offers spectacular 360-degree views of Global Village and the Dubai skyline.

A new haunted house experience that is set to be the scariest in the region.

A hydraulic digger experience where children could learn about construction machinery.

A range of fan favorites, globally renowned performers, a new stunt show, famous characters, world-class concerts and street entertainment.

Over 400 performers from 40 different countries, with over 200 performances every night.

The Road of Asia, a new pedestrian street featuring 43 kiosks from 13 Asian countries with authentic products.

Over 3,500 shopping outlets and more than 250 restaurants, cafes, and street food options.

The UAE National Day Celebrations, a variety of cultural performances, fireworks, and other festivities.

The Halloween Horror Nights, a terrifying experience for those who dare to enter.

The Christmas and New Year's Eve celebrations, a magical time for families and friends to come together and celebrate.
Rules And Regulations For تذاكر القرية العالمية vip 2023
Here are some other things to keep in mind when planning your visit to Global Village Dubai Season 28. The following guidelines must be followed.
The park is open from 4pm to 12am, from Saturday to Thursday, and from 4pm to 1am on Fridays.

The entrance fee is AED 15 for adults and AED 10 for children.

There are a variety of parking options available, with prices starting from AED 5 per hour.

You can bring your own food and drinks into the park, but there are also many restaurants and cafes where you can buy food.

The park is wheelchair accessible and there are also a number of family-friendly rides and attractions.

Pets are not allowed.

Please wear cover-ups.

Skateboards, scooters, segways, hoverboards, and other similar devices are not allowed.

Please refrain from making public demonstrations of love.

Without a permit, no filming is permitted.
Global Village VIP Package With Rayna Tours | Starting At AED 22
Get ready for an extraordinary adventure with your Global Village admission tickets, granting you access to the region's most extensive shopping, leisure, and entertainment destination. Featuring the rich cultures, delectable cuisines, and must-see experiences of over 80 countries, this vast open-air attraction ensures non-stop fun, excitement, and adventure. From thrilling family rides to live shows and concerts, Global Village is a Dubai landmark that promises something for everyone.
Global Village weaves together a tapestry of cultures, with enormous stalls and pavilions representing 75+ countries from across the globe.

With over 3500 outlets and nearly 200 dining options, you can virtually travel through continents and countries in a single day. From delectable cuisines to souvenirs, shopping, thrilling rides, and overall excitement, Global Village offers a cosmopolitan and diverse experience for all its visitors.

Throughout Global Village's seasonal run (open from October to April), prepare to be entertained by over 40,000 live performances, featuring globally renowned artists.

From dynamic stage shows to enlightening presentations, and high-energy performances, the best part is that these spectacles come at no additional cost.

Sections like "Carnaval" are a pure delight for kids and families, while those seeking heart-racing adventure can witness daring stunt shows with breathtaking acrobatics.
Tour Inclusions
Admission to Global Village

Immerse in Cultural Entertainment with unlimited fun

Enjoy Food, Souvenirs, Shopping, and Rides (at your expense)

Transfers (if selected)
How To Reach Global Village?
Dubai's Global Village, a kaleidoscope of cultures, cuisines, and captivating entertainment, awaits your visit. Whether you're a traveler seeking cultural immersion, thrilling rides, delectable international cuisine, Global Village has it all. To help you get there with ease and comfort, we've put together a guide on reaching this iconic destination with two of the region's renowned airlines, Qatar Airways and Etihad Airways.
Read : Etihad Student Discount | Avail Up To 10% Off On Booking With Students Discount Code
Flying with Qatar Airways Using Qatar Airways Promo Code
Start by booking your flight to Dubai with Qatar Airways. With its world-class service and extensive route network, Qatar Airways ensures a comfortable and enjoyable journey from your departure city to Dubai.

Upon arrival at Dubai International Airport (DXB), you'll find yourself just a stone's throw away from Global Village. Dubai's well-connected transportation system offers various options for reaching your destination.
Flying with Etihad Airways Using Etihad Airways Promo Code
Book your flight to Dubai with Etihad Airways, another top-tier carrier known for its excellent service and connectivity.

Upon landing at DXB, you'll be in close proximity to Global Village, making it easy to continue your journey.
How To Book Global Village VIP Tickets?
Booking Global Village VIP tickets in the UAE can be done through several convenient methods:
Online: One option is to reserve your tickets directly on the Global Village website. Simply visit the official website, and you can easily make your booking there.

By Phone: Another convenient way to secure your VIP tickets is by calling the Global Village call center. Their staff will assist you in booking your tickets over the phone, ensuring a hassle-free experience.

On-Site: While you can also purchase tickets at the park itself, it is advisable to make advance reservations since tickets may sell out quickly.
If you prefer booking Global Village VIP tickets online, follow these steps:
Visit the official Global Village website.

Navigate to the "Tickets" section.

Choose the "VIP Tickets" option.

Select the VIP package that suits your preferences.

Provide your personal details and payment information.

Click the "Book Now" button.
FAQs
1. What time does Global Village start?
The Global Village Dubai opened its doors to Dubai residents on October 18th and will remain open until 28th April 2024.
2. What will I find in Global Village?
Pavilions representing many nations, cultural performances, market stalls, and a variety of international food may all be seen by visitors.
3. Does Global Village accommodate families?
Yes, Global Village is a family-friendly vacation spot with a range of entertaining opportunities for visitors of all ages.
4. Can I order my tickets ahead of time?
Yes, tickets can be bought in advance at the venue or online through Global Village.
5. What should I wear in Global Village?
Although there is no set dress code for Global Village, visitors are recommended to wear modest clothing and appropriate outdoor clothing.
6. What limitations apply to photography at Global Village?
While most of Global Village's attractions and pavilions allow photography, visitors are recommended to check with each one to learn about any additional policies.
7. Where is Global Village located?
Parking is available on-site, and Global Village is located in Dubai Land and is conveniently reachable by vehicle or public transportation.
Conclusion
From the best dining places to the most fun adventure parks, you can grab a taste of Dubai's most famous tourist attractions at the lowest costs. Make sure you use the VIP Tickets discounts mentioned above before subscribing and endorse exquisite cultural delicacies with endless savings.